While at the Princeton Reunions last weekend, TBW and I stayed on campus in a dorm room. Five years ago we stayed in one of the old Gothic dorms with leaded windows and shared bathrooms. It was a surprise to TBW that the bathrooms were also coed, but she's a trooper and just finished her shower.
This year we stayed in the new Butler dormitories (with private bathrooms). These beautiful buildings impressed us. I generally try to avoid curves in buildings, but the flowing brick shown below looked wonderful and wouldn't have been a budget buster.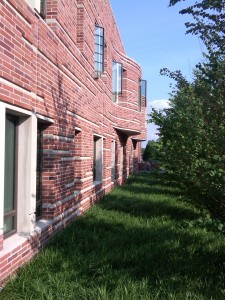 The dorms had two double bedrooms, a shared living room and a shared bath, so the space was used well. I liked the detailing of the windows and the heaters hidden by a rounded duct section above the windows. It seems a stylish and economical solution. The finishes in the dorm rooms were simple, but looked good.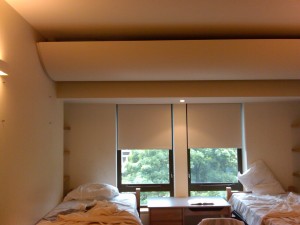 If you are a regular blog reader, you know I typically hate green roofs as expensive and unsustainable. The one shown below didn't make me a fan, but I must admit it was pleasant walking down the stairs and seeing the plants out the window. I guess I'm getting soft in my old age.