ADA & Accessibility Code FAQ for Construction

"Great field reference - Easier than the code when trying to check basic ADA requirements in the field."
- Quoddusical in iTunes Store
---
A handy field reference for Accessibility and American Disabilities Act (ADA) code issues in construction and building. This app contains a series of Frequently Asked Questions to provide quick answers with Code reference for more detail. The app refers to the most commonly used requirements for accessibility issues from IBC 2006 and ANSI A117.1 2003.

Obviously, the controlling building code and the Building Code Official must be consulted to actually resolve any issues. Please understand that this phone app is not the Building Code and cannot be used as a substitute for the Building Code. Also, the American Disabilities Act (ADA) sometimes conflicts with the current Codes.

Example:
You are laying out the sidewalk coming into an accessible entrance and can't remember the allowable slopes and handrail requirements. You think what is shown on the drawings isn't really going to meet the code or the inspector's approval. By checking this phone app, you can quickly get a reminder that 5% (5/8" per foot) is the maximum slope and 2% (1/4" per foot) is the maximum cross-slope unless you want your sidewalk to be considered a ramp, which then needs railings. Now when you talk with the Design Professional or the Building Official, you won't just be operating from memory.

Here's how it works:

1. The phone app provides five main categories to select.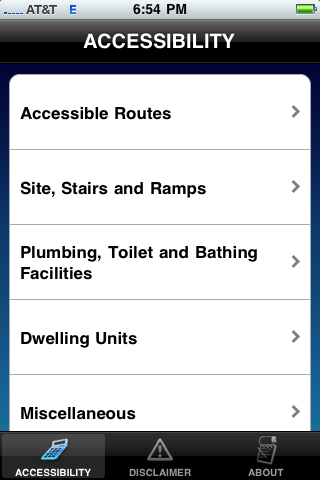 2. After selecting a category, a series of Frequently Asked Questions (FAQs) can then be selected.




3. A helpful (hopefully) answer is shown.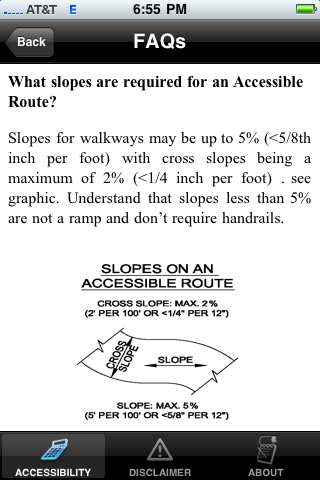 4. Here is another example of a FAQ answer screen.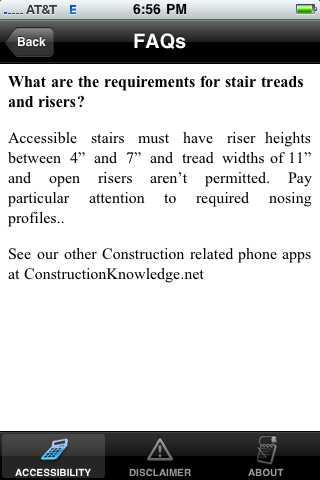 This phone app should be helpful for anyone who wants a quick reference in their pocket. For more challenging issues, you always need to go directly to the code.