"Just the thing - pretty much just what I needed ... This was a very affordable and most timely answer."
- CybrByrd review in iTunes store

---
An easy to use steel beam design calculator for construction & building:

Inputs: span, beam size, steel shape & size. Properties of US hot rolled steel beams included. An option of point load or uniformly distributed load (only simple beam spans included).
Outputs: calculated stress in bending, the allowable stress of your beam type and the calculated and allowed deflection.

Other features & notes:
Results can be emailed, texted or copied to the phone's clipboard.
Feel free to email us with feature suggestions or new app ideas.

Example:
You have a steel beam spanning the top of scaffolding and a come-along lifting from it. You want to make sure the beam is more than adequate for the load you are hoisting. You know it's an 6" high "I" beam with 4" wide flanges that are 1/4" thick, spans 5' and is trying to lift a 4,000 pound load. Wouldn't it be nice to know if the calculation supports what your gut tells you?
Here's how it works:
1. Input the span length: 5'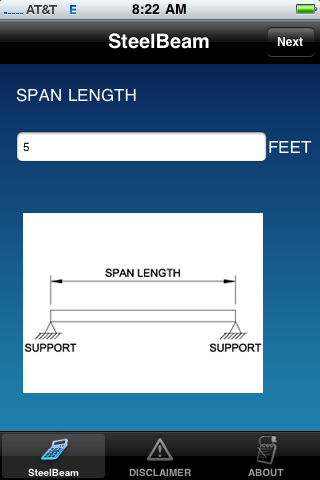 2. Select the type of steel options: 50,000 psi
Note: New steel is normally 50,000 psi while older steel was often 36,000 psi.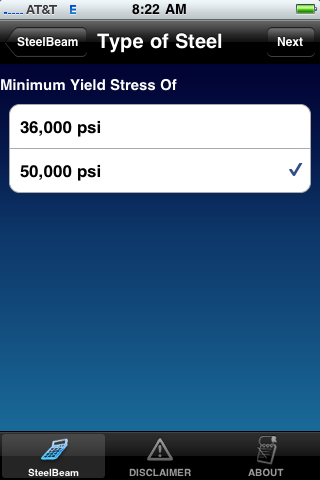 3. Determine the proposed beam by measuring the depth and flange width and thickness, then finding the solution from the Steel Shapes phone app or just by knowing what beam is being proposed: 6" and 4" and 1/4" so W6x12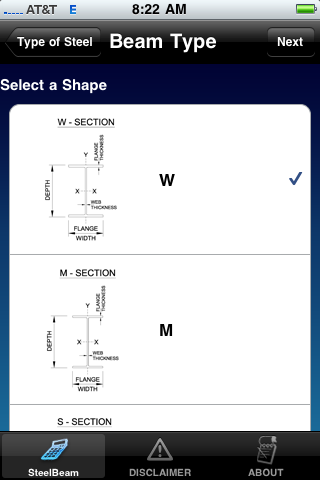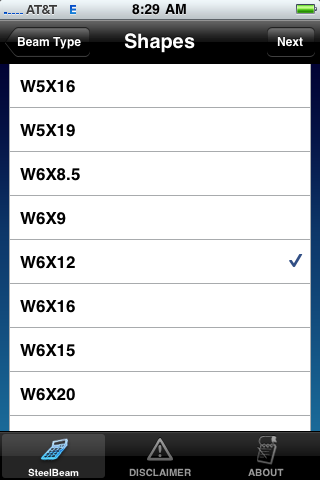 4. Indicate if the load will be a center of span point load or a uniformly distributed load? Point load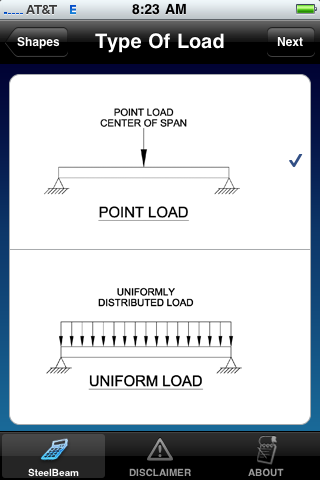 5. Input the amount of the load: 4,000 pounds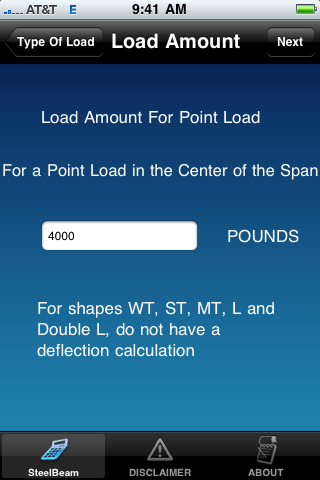 6. Verify that the top chord of the beam is restrained from twisting or buckling. The program assumes the top chord of the beam is adequately supported (either with regularly spaced joists or some type of stabilization ties) at least every five feet. If the top chord of the beam is not adequately supported, please understand the beam can fail from top chord buckling. This program does not evaluate beam spans with unrestrained top chords.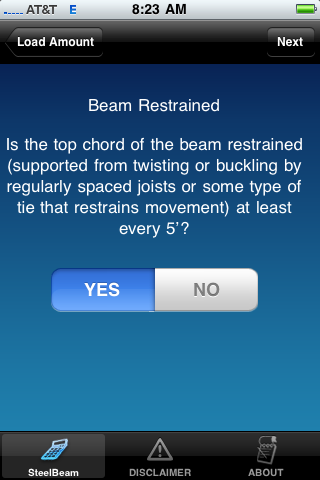 7. Review the program output: