"Awesome app - does exactly what it says. All the steel shape and size information you could need." - review in Blackberry App World
---
Find the design properties for your hot rolled steel shapes for construction & building:
Schematic, dimensions, area, Section modulus Sx, Sy, Ix, & Iy.

Exhaustive library of shapes:
W, M, S, HP, C, MC, angle, double angle, HSS round, pipe, HSS rectangle, WT, MT, ST for US hot rolled shapes. For each category, the app contains the information on the dozens or hundreds of steel sizes.

Other features & notes:
Results can be emailed, texted or copied to the phone's clipboard.
Contains only US steel shapes in English units. We will create an app for metric, European or Japanese if there appears to be demand.
Feel free to email us with feature suggestions or new app ideas.
Example:
The structural drawings show a C12x30 that gets notched into a block wall. You need to find the dimensions in order to properly saw the block wall. This app allows you to quickly find the important dimensions. On the other hand, perhaps you have a steel beam on an existing building and know the dimensions but need to find the size.
Here's how it works:
1. Scroll through options and select the type of hot rolled steel shape: C Channel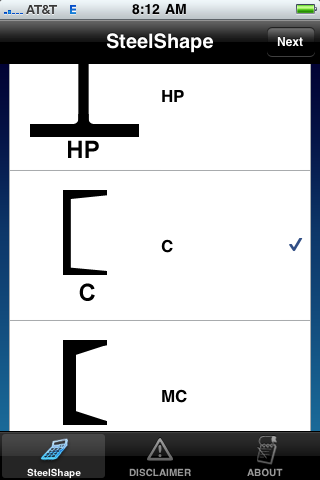 2. Scroll through options and select the specific steel shape: C12 x 30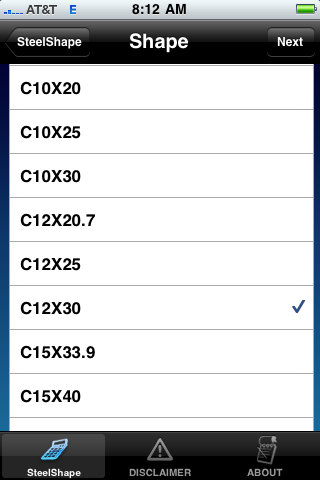 3. Review the program output of dimensions and the schematic: