Converting Units Calculator for Construction

"Great construction focused app - Simple and useful in the field. Helps to work out quick answers. The density of common units and energy value tables are helpful."
- user review in BlackBerry App World

---
Features of Converting Unit Calculator for Construction:
Contains the most commonly used construction units (English and metric) including:
length, area, volume, density, mass, pressure, speed, acceleration, energy and power
& a decimal feet to feet & inches converter.

Tables of helpful information:
Common densities of aluminum, brick, concrete, fresh snow, etc
Energy of common fuels like gasoline, ethanol, propane, natural gas, coal and wood;
Rules of thumb for power including hints like one ton of air conditioning equals 12,000 Btu/hour, a person in a room adds about 250 Btu/hour and a Ford Pinto is 88 HP and uses 2 gallons of gas an hour.

Other features & notes:
Results can be emailed, texted or copied to the phone's clipboard.
Feel free to email us with feature suggestions or new app ideas.

Example:
You know your propane temporary heating unit produces 25,000 Btu/hour. You have a 5KW electric heating unit that you could also hook up, but wonder if it's a waste of time. How close are the two heaters? A quick check shows that the electric heater will almost double your temporary heat.
Here's how it works:
1. Scroll through options and select the type of unit to convert: Power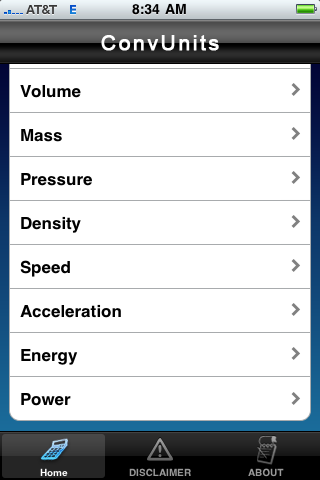 2. Scroll through and select the convert from and convert to units. Input the quantity to convert and review the program output.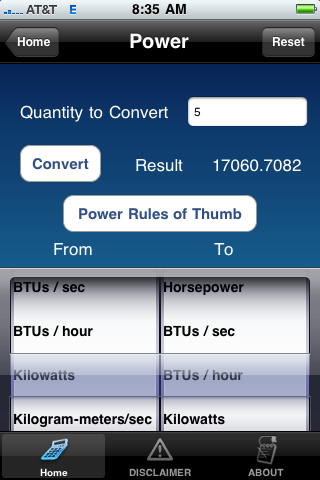 You learn that the 17,060 BTU/hour is close to the output of the 25,000 BTU/hour heater.